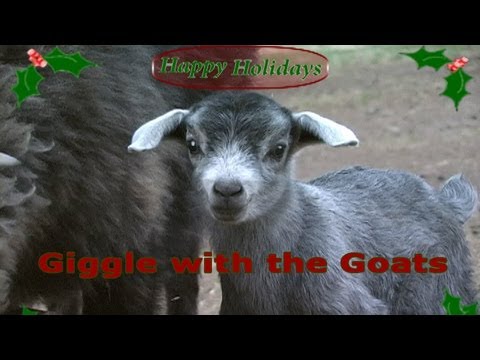 Greetings!
Hope all is well with you and yours. I hope you have found some fun and excitement thus far as we all zoom through another holiday season. The first order of business is a big hearty hug (Sorry guys, I know this makes some of you uncomfortable.  Gals, thanks, may I have another:)) and "Thank You" to all of you who are part, or became part of the Goat Herd this year. Whether following my adventures, checking stream reports, taking classes, buying stuff or just dancing with the rest of the goats I apreciate it from the bottom of my furry little heart. These are not our goats, but I thought you would like the giggle.
2011 was a crazy year. The Good, The Bad, and The Ugly all managed to make an appearance. I have securly locked The Bad and The Ugly away in the wood shed and will continue to keep them at bay for 2012 and beyond. That means, bring on The Good. I can think of no better way to start off 2012 other than standing in the river, waving a stick. On January 1st I will be somewhere in Southeast Minnesota, doing just that.
Here is what else I am looking forward to for 2012
Scientific Anglers invites Goat to join staff!
I am excited to announce that I have been invited to join the SA Pro-Staff. Scientific Anglers(3M) is one of the most highly regarded manufacturers of fly fishing products in the world. Their fly lines are unrivaled in the business, and along with the addition of Ross Reels, SA can now boast the Number 1 selling fly reel in the USA. There are only 60 fly anglers across the country that are part of this staff, and I consider it a great honor to be asked to participate. Look for blog posts on the latest products from SA in 2012 as well as sneek peaks into innovative new gear that is being tested for future release. Never hesitate to email me for any information regarding SA or ideas that you may have for new fly fishing products. I am part of this staff to help make a difference in your fly fishing experience. Contact me if I can help.
Casting and Tying Classes in Eden Prairie
Once again we will be running casting classes in the Prairie Dome and tying classes at the Staring Lake Nature Center on the same night. This will give you a chance to get your fly fishing fix for the winter in a warm indoor setting. These classes run concurrently on Friday nights. The first classes begin on Friday, January 6th, so you have just enough time to sign up for the first session of classes. The second session of classes begin on Feb 10th. Here are the links to the information and sign up.
Casting class- http://parksandrec.edenprairie.org/Activities/ActivitiesDetails.asp?ProcessWait=N&aid=996
Tying class- http://parksandrec.edenprairie.org/Activities/ActivitiesDetails.asp?ProcessWait=N&aid=2440
This info is also on the Gray Goat website under the Classes tab. I hope to see you there. This year along with myself, there will be 2 certified FFF casting instructors and a host of other casting instructors and guest personalities to help you become a better fly caster.
2012 Spring and Summer Schools and Classes
Gray Goat Fly Fishing and Kinni-Creek Outfitters have teamed up to bring additional classes and schools to help you learn the basics from casting to catching. Join us for these fun and educational outings. Sign up now for spring and summer schools and classes.  Register by phone or email 1-715-425-7378 or guide@kinnicreek.com Bring your own gear or reserve it in advance. Class size is limited.
Hook Orders
The Winter fly tying season is right around the corner. Gray Goat Fly fishing is a licenced dealer for the three largest fly tying material providers in the United States. On January 10th I will be placing a huge hook order like I do every year. The time is now to go through your hook inventory and come up with a "must have" order list of hooks from any of the "Big Three" Hareline Dubbin, Wapsi Fly, or Umpqua Feather Merchants This includes all the big names in the hook business like Tiemco(TMC), Mustad, Daiiachi, Lightning Strike, U series, Partridge and Alec Jackson. All I need is the description including hook model and size, the product code and the quantity you would like. Those of you who have participated in this order before know that the price is right. Don't waste any time on this one, it only happends once a year.
Tom Helgeson's Greatwaters Fly Fishing Expo
Again this year the Greatwaters expo will take place at the National Sports Center in Blaine. The dates for the show are March 23rd-25th. Here is the link Greatwaters Fly Fishing Expo
New Shopping Cart
I have been working hard on my new shopping cart(not really all that hard). I hope to have it up and running shortly. I know the only one it hurts is me, but I thank you for your patience and continued support throughout 2012.
Thanks for spending time with the herd
Andy