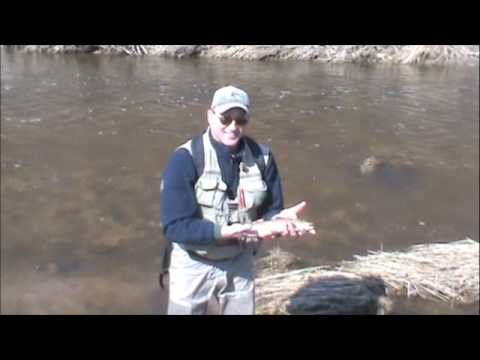 This years' opening of the Wisconsin early catch and release trout season came March 7, the latest possible date. Since the first weekend fell on the same dates as the Greatwaters show (a great success), our annual get together was delayed a week. 
So, this weekend was our annual get together. There were 10 anglers 5 dogs and similar conditions to the week before including high water from runoff and cloudy waters.  There have not been "Blow Out" conditions. Much time this weekend was spent basking in the glorious sun and chatting with friends on the banks of the river. In our group some anglers caught many fish and some anglers caught none. The catching was as variable as the conditions.  This is my first attempt to add video to this blog. I assure you it will get better. The addition of video will help you see what I am doing and add some visual stimuli to my written words. That is noted Cane rod builder Dave Norling and my friend Randy in the first shot. The dogs are all related in some way.
 Air temps have been rising each day and the snow left in the valleys continues to melt at a steady pace keeping the waters in a stained, cool condition.  I think this will be the case for the next week as the snow melts into the rivers. I am a bit guarded as the temps will hit 60 today and more snow will melt and move to the rivers. Not much has changed and the fish are still there in your favorite spots. Target the slower deeper water. Patterns are the same as last week . The fish in these conditions will not spend as much time chasing food but if you can target their location and hit them on the head with your fly, they will eat. I will check conditions a little later in the day and get back to you.